A significant component of any landscape design, brick pavers have their own timeless beauty, durability and classic appeal. They can make a dramatic statement in any setting, be it architectural or landscape, which is why they are so popular with homeowners.
Since almost all homeowners would undoubtedly like their hardscape to last for a long time, they should maintain brick pavers at appropriate time intervals.
Clean and Beautiful Brick Pavers
Regular cleaning is the key to maintaining brick pavers. Look for signs of spills and dirt on your hardscape because these unsightly sights can tarnish its elegant facade. Sweep your brick pavers regularly to make sure that they are free of dirt and debris. This is an important maintenance step to extend the life of these bricks. Also, don't forget to clean your driveways and other brick paver surfaces because grit can gradually erode the surface of your hardscape.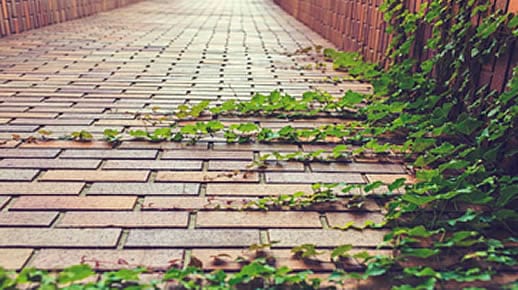 Busy homeowners would certainly like to save time and effort with the cleanup effort. To this end, they can contact professionals with industry experience who can maintain their brick pavers and clean them thoroughly with power washing.
Instead of doing a power wash on your own, you should leave this delicate task to the professionals. Professionals know all about the right pressure level required for cleaning bricks thoroughly without damaging them. They are also familiar with the cleaning products and techniques that can give your bricks a good wash without harming their surface. The right professionals will also know how to replace lost sand between brick paver joints so that there are no unsightly cracks and gaps in your hardscape.
You must use the right methods to maintain brick pavers. Not all methods work equally well. Sand blasters should be avoided as they can erode the surface of bricks due to their harsh sand blasting action, which may be quite damaging to your bricks, especially if done by those lacking expertise. Sand blasting might possibly leave your brick pavers susceptible to cracking and water damage. Cleaning products with muriatic acid are also less than ideal since they can leave your brick pavers mottled and discolored. This may spoil the overall appearance of your landscape.
Maintain Brick Pavers by Sealing Them
Once the brick pavers have been laid out, it is a good idea to seal them. When sealed properly, brick pavers can become more resistant to weed growth and surface damage. Maintaining a shiny surface is easier with sealed bricks. When you have your brick pavers cleaned by professionals, you should also ask if resealing them is necessary. Contractors specializing in brick pavers can guide you in this regard to help you maintain your brick pavers.
Sealed brick pavers are better at repelling stains and dirt so that you will not have to clean them as often.
With the right experts on your side, maintaining brick pavers is a cinch and you will have a landscape that will look beautiful and pristine for many years.