Choose The Best Sealer for Brick Pavers
Brick pavers are an excellent way to accentuate your driveway and add value to your house. It also boosts the curb appeal of your property. However, as these pavers get old, they start losing their color, begin to develop unsightly stains, or even crack in places, making the exterior of your house look unkempt and dishevelled. Fortunately, you can prevent most of these problems by choosing to seal brick pavers with an appropriate sealer.
Sealing brick pavers can keep your driveway, patio, deck, and sidewalks looking new for years to come. In addition, they prevent moisture from seeping into the surface and keep the pavers from coming to lose. Sealers also make it easy to wash the grease and oil stains from the pavers and play a vital role in inhibiting weed growth.
So, if you want to protect your investment from damage and deterioration but are not sure which sealer would be the best fit for you, we've got you covered.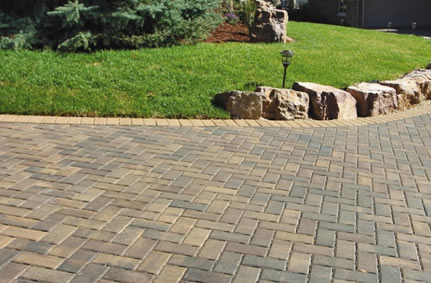 Here are the two main types of paver sealers that all homeowners must know about.
Non-Film-Forming Sealers
If you want your brick pavers to have a matte finish, you should opt for non-film-forming sealers. They protect the surface from harsh weather conditions and typically last longer than their film-forming counterparts.
Film-Forming Sealers
The film-forming sealers form a satin, glossy, or semi-gloss finish. These sealers protect the brick pavers by creating a physical barrier between the surface and other elements. Although you may have to reapply this sealer more frequently than the one mentioned above, it can add to the aesthetic appeal of your house. In addition, this type of sealer can make the pavers look darker and give them a wet look.
Furthermore, film-forming sealers are divided into two primary categories: solvent-based and water-based sealers.
Solvent-Based Sealers
Solvent-based sealers are made from an acrylic or polymer blend, offering a thicker and shinier finish. These sealers have a consistency of the paint, which may make them a little tricky to apply if you don't have prior experience. However, it is essential to mention that solvent-based sealers have a strong odor and contain a high amount of Volatile Organic Compounds or VOCs.
Water-Based Sealers
While water-based sealers also comprise acrylic and polymers, they have a thinner consistency as the polymer particles are dispersed within the water molecules. They are one of the most popular options to seal brick pavers as they are easy to apply and only have a mild odor. The polymer particles come together to form a barrier on the surface once the water evaporates, sealing the pavers underneath.
Moreover, water-based sealers contain low VOCs and cure to a relatively matte finish.
Hire Experts to Seal Your Brick Pavers
Sealing brick pavers is a great way to add curb appeal to your house. However, some jobs are better left to the professionals. So, whether the pavers around your property need a little upgrade or a complete makeover, Kingsway Paver Sealing can help you out. Our team of experts specializes in paver sealing and power washing.
For more information on how to seal brick pavers, please feel free to get in touch with us.